Posted on
April 14th, 2008
by The Baseball Zealot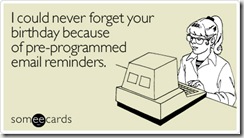 Happy Birthday to The Baseball Zealot! Three years ago, I posted the first article for this blog. Coincidentally, it is also the birthday of TBZ co-author Teddy Ballgame.
I gave Teddy a call today over the lunch hour to wish him a happy birthday. I got the latest on the White Sox news. Teddy was hoping to go to the Sox game tonight but as everything with the Midwest lately, it was dependent on the weather. He didn't neglect to tell me that Joe Crede was leading the AL in rbis. Good thing I kept him on my APBA team.
I updated him on my fantasy auction draft from yesterday. I got Brandon Phillips late in the draft for a song ($7) and my opening bid for Tim Lincecum for $5 went uncontested.
Anyway, I hope you enjoy the blog. Here's to another year!
-tbz
No tags for this post.