Posted on
April 17th, 2007
by Teddy Ballgame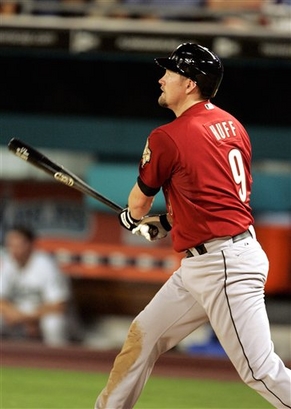 Aubrey Huff
Aubrey literally means king of the fairies, not that that actually has anything to do with what happened in Tampa. B.J. Upton hit a bouncer off O's firstbaseman Aubrey Huff's glove for an error, picked up the ball, and threw it over Adam Loewen's head for another error, sending the runner on first, Brendan Harris to third. Paul Bako who was backing up the play, threw the ball plateward, but nobody was covering home, another error. The final error allowed Harris to score and Upton went to 3rd. Loewen completely lost his concentration.
But thanks in part to Baltimore's bats & the Devil Rays bullpen, the Orioles came back for the win. Huff hit a home run, thank goodness he can hit. Strange play happened in the game, Kevin Millar hit a homer off an over hanging speaker in fair territory, it bounced off, landing in foul ground. Millar circled the bases, it was ruled a foul ball, and he ended up striking out, a homer & a strikeout in the same at bat.
No tags for this post.