Posted on
January 19th, 2008
by The Baseball Zealot
I rolled into Chicago on the rails of Amtrak around 9:30am ready for a weekend of Cubs fun.  Zealot friend (and friend of mine) Tyler was nice enough to give up his apartment (and stay and his girlfriend's) so I could headquarter there.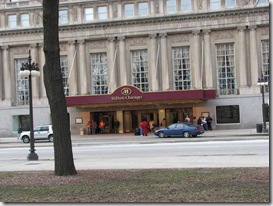 After dropping off my stuff and getting a bite, I walked over the Chicago Hilton.  It's a good mile walk.  Friday was a cold day but not unbearable.  At least the sun was out and the wind was kept to a minimum.
Entering the Hilton the first time on a Cubs Convention weekend can be intimidating.  There are SO many people.  I remember that from last year so I was a little more prepared.  Lines of people everywhere because at this point, not everything is open.  Once exhibits and such start opening, it's like the floodgates have opened.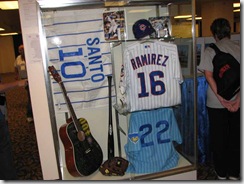 Anyway, I went to the proper room to get registered.  Like the seasoned pro I am, I knew exactly where to go this time and even directed a couple first-timers their way there.
Once open I took a quick walk through of the vendor booths in the exhibit halls.  I admit this is kind of fun.  "Vendor" sounds a bit corporate and in some cases that's true.  But there are a lot baseball related organizations and small businesses that show off their wares.
When 5:00 came around, it was time for the opening ceremonies.  Alas, I watched from the overflow room so I didn't get a first hand look at the speakers instead watching the fun on a large video screen along with a throng of others.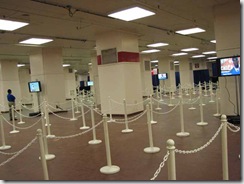 Saturday, autograph hounds will be busy hunting their ultimate goal.  These now empty queues will be lined with people.
The opening ceremonies were long pomp and circumstance and short on substance.  But that's ok… I don't think anyone would expect anything different.  By the way, for my money, Wayne Messmer has deepest, richest voice and he proved it in his singing of the National Anthem.
Emcee Pat Hughes then had the pleasure of introducing the Cubs players and other Cubs celebrities.  There must have been some LSU alums sitting at the table next to mine.  When both Mike Fontenot and Ryan Theriot were introduced, they broke into loud chants of "LSU! LSU! LSU!"
With the intros finished, a WGN-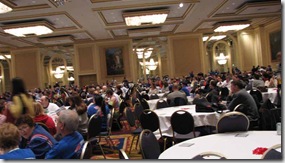 produced video detailing the 2007 season was shown for us.  Fortunately, it left out that nasty little business with the Dbacks.
By 6:30, it was time for my interview with Eric Loy at WDWS.  I enjoy my talks with Eric (this was my second).  He seems knowledgeable on the game and definitely has opinions.  Anyway, I hope I sounded reasonably intelligent.
By then, I was ready to head back to Zealot headquarters.  Right now a Giordano's pizza on the way while I write this.
In summary, Friday was a day of rallying the troops.  Tomorrow, a new day of talks, seminars, fun and who knows what else.
More photos of the Cubs Convention at The Baseball Zealot Photo Gallery