Posted on
November 5th, 2007
by The Baseball Zealot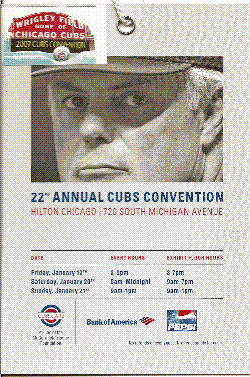 My ticket from last year's convention
Cub fans, the 2008 Cubs Convention is only 2 months away. If you're interested in getting tickets, you can try your luck on Wednesday November 7 when a limited amount of tickets will be on sale. Details on the Cubs website.
Last year, I had no luck that route and ended up buying them on Ebay for a few dollars over list price.
I had a blast at the 2007 Cubs Convention. You can see my photos and blog posts from that weekend here.