Posted on
August 3rd, 2006
by The Baseball Zealot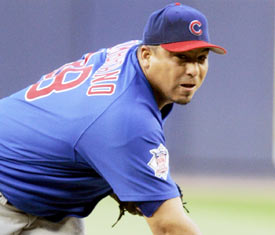 Zambrano doing it with his arm and bat
With all the troubles the Cubs' starting rotation has gone through, thank goodness for Carlos Zambrano. Carlos won the NL Pitcher of the Month for July. He won all six of his starts with 40 Ks. His 4.15 ERA was somewhat mediocre but can you imagine where the Cubs would be without him?
Not only that, the media stories have mentioned his offensive exploits as well. His two homeruns helped his cause. Zam leads the league in HRs, runs, rbis, and total bases by a hurler.
Last week, I started hearing whisperings of Zambrano being a candidate for the Cy Young this year. To be honest, I never considered the thought. But looking at the stats of the league leaders, I think he's got a real shot. He's 5th in the NL in ERA but leads in wins and strikeouts.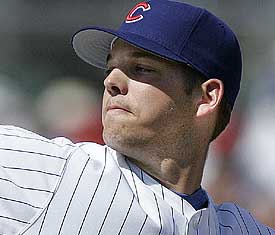 Hill's Rich Outing
To a non-Cub fan, Rich Hill's 3 runs allowed in 8 innings against the Diamondbacks on Tuesday may not seem like a big deal. But boy, I think that was so important on so many levels. First, we got a glimpse of the Rich Hill who has pitched so well in the minors. His first win after 6 losses in the bigs takes the pressure off of him. Now he knows what a win feels like.
Not only was it a win, it was a strong 8 inning outing, taking the burden off the bullpen. The way the starting staff has pitched (save Zambrano, of course), that's big.
The next time Hill is slated to pitch, maybe we all won't collectively groan.