Posted on
December 23rd, 2006
by The Baseball Zealot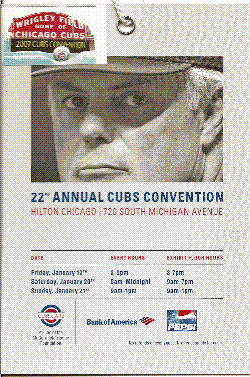 Christmas came early for The Baseball Zealot. I got my Cubs Convention tickets in the mail.
Of course, I didn't get them through the normal channels. Try as I might, the tickets sold out in 12 minutes the day they went on sale. No, I bought these on Ebay. Luckily, I didn't pay too much over retail price.
Didn't they have a good photo of Piniella with a Cubs hat on yet? Then why cut him off at the forehead hiding the team logo? That's my theory.
Update: I've been asked who exactly will be at the Cubs Convention this year. According to Cubs beat reporter Carrie Muskat, they won't announce that till the Sunday before the convention.