Posted on
September 17th, 2008
by The Baseball Zealot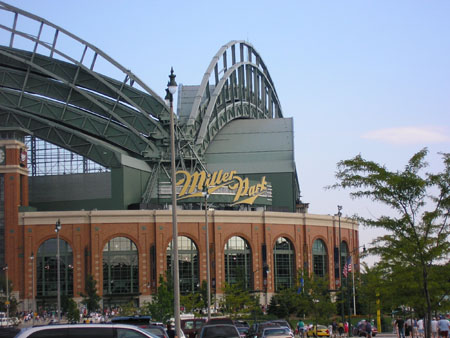 After enjoying two days as the host team in another ballpark, some Cubs players are fanaticizing about a new park in Chicago especially one with state-of-the-art locker facilities.  Zambrano was the most blunt about his comparison between the two parks:
"(Miller Park) is a beautiful ballpark. Gosh, I wish we could have a new ballpark."
Though Jason Marquis also enjoyed his Miller Park stay, he had more appreciation for the fan's love of Wrigley and had a creative idea:
"You never want to see a landmark taken down, a place with so much history," Marquis said. "The fans love it. That being said, the game is changing, stadiums are getting updated. There are better facilities, not only for the players, but for the fans—better food concessions, comfortable seats, better views. …

"If I had a personal choice, I think they should knock Wrigley down and build a replica in the exact same spot to give it that same feel. The same colored seats, same ivy, same wall, and throw up a Jumbotron, but have it look like a replica of the scoreboard that's up there now, try to give it the same feel, in the same spot. I wouldn't be opposed to that."
I suggest to the Cubs that before they get too concerned about grandiose ideas like new parks and locker facilities that they realize that they have a division to clinch and playoffs to be more concerned about.  They've come this far with the Friendly Confines as their home base.  Their two-day stay in Milwaukee was awesome and in some ways, historic.  But let's not lose sight of why it was important to win those games. 
Hint:  it wasn't for "The Locker Rooms that Zambrano Built.