Posted on
June 4th, 2006
by The Baseball Zealot
Phil Nevin wasted no time in helping his team after coming over from the Rangers.  In his first start, he was 1 for 5 but that one hit was his 10th homer of the year.  He and Aram, who had a grand slam provided much needed offense for the Cubs as they won against the Cards 8-5.
But unless you're a Cubs fan, that won't be the big story.  The best player in baseball has been hurt and most likely be placed on the DL.  Pujols strained his right oblique chasing after a Aramis Ramirez foul ball.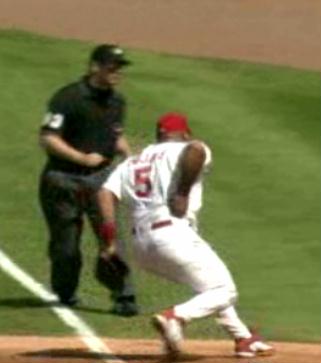 This, of course will put any record chase in jeopardy. Rumors are the Cards are putting him on the 15-day DL but say if they get him back by then, they'll be lucky. 
More importantly is the effect on the Cardinals.  They sit atop of the NL Central but Cincy is only 3 games behind and Houston 7 1/2.  The dearth of the best hitter in baseball will severely affect their offense not to mention morale. 
Yesterday, Luna came in from left field to play first and John "Jrod" Rodriguez took Luna's spot in left.  No reports on how St Louis will take care of the situation long term.
Readers of this blog know that despite being a Cub fan, I love Albert Pujols.  He's one of the greatest hitters of our time and a pretty damn fine man, too.  I hate to see him go down during his best year. 
Other comments:
What's with the St Louis defense?  Their fielding during this series has hurt them immensely.  Rolen's error put the game in extras two days ago.  Yesterday, three errors in one inning?  The normally decent fielding St Louis team is slipping when it counts. 
Have to mention… Jacque Jones went 3 for 4 yesterday.  I don't know why but he's becoming one of my favorite Cubs.  When DLee went down, it was a favorite phrase of everyone that Aram was the power source of the Cubs.  Well, he hasn't really come through (yesterday excluded).  JJ has quietly put forth the effort. 
I guess it helps to have parents who advocate for you.
Update:  Viva El Birdos has a lot of info re the extent of the Pujols injury and what the Cardinals options are.