Posted on
March 31st, 2007
by The Baseball Zealot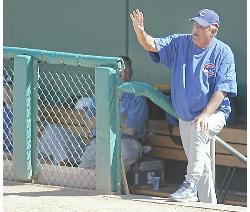 Piniella says "five" years for Zambrano
Looks like Zambrano and the Cubs might just pull off a long term deal before the opening day deadline. The deal is said to be for 5 years. Salary figures are yet unknown but rumored to be sub-Zito ($18m/year).
I have a bet with BZR co-host Cluke that a deal would be reached before Opening Day. Looks like I'll be getting a free diet soda next time I see him.
Update: The latest news is that Zam has extended the deadline to reach an agreement.
"Our discussions have progressed to a point where we are extending the deadline for an indefinite period of time," Zambrano's agent, Barry Praver, said on Sunday.
However, more details are out. It looks like 5 years and $80 million.