Posted on
July 31st, 2006
by The Baseball Zealot
This morning, in the season of bad, was a good time to be a Cubs fan. Tonight, however, reality is setting back in.
Not only have they swept the Cardinals four games (the first time since the '70s), they have not allowed a Cards win at home all year. They have won six of their last seven.
All this on the heels of the induction of former Cub (albeit former Cardinal, as well) Bruce Sutter into the Baseball Hall of Fame.
But as mentioned, good things do come to an end. Not that we Cub fans expected this to keep going but the second-place Diamondbacks are currently walloping the good guys 15-4. Mark Prior lasted 5 innings and well, let's just say he's pitching about the same. Chalk up another L.
Trade Winds: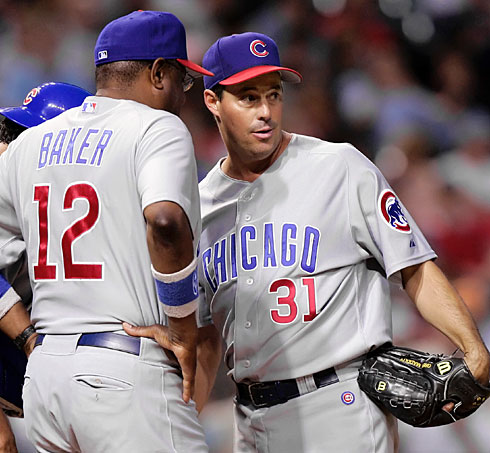 Greg Maddux is leaving the Cubs for the second time. The fact that he got traded isn't a huge surprise to anyone paying attention. Which I guess makes it a little easier to swallow.
In return, the Cubs got Cesar Izturis from the Dodgers. My take on Iz is that he is a sometimes slick fielding infielder with a soft stick. His career .295 OBP doesn't impress me. For 2006, he is .252/.353/.302. This is 6th year in the majors so my feeling is that he's had plenty of time to mature as a hitter.
More than likely, Izturis will play short and Ronny Cedeno will move to second. Which would put Neifi Perez on the bench.
So maybe it's addition by subtraction.
Nonetheless, I wonder if we could have possibly could have gotten just a bit more. I really don't think this moves the organization forward.
Todd Walker was also dealt the the Padres for minor league pitcher Jose Ceda. Walker had been rumored to be traded as well.
I honestly don't much about Ceda. This is the only report of substance I could find on him.
Walker got a lot of crap as a Cub but he had his good points. He had a decent OBP and some pop (for a 2B). And from what I heard, he liked Chicago and Chicago fans.