Posted on
January 26th, 2007
by The Baseball Zealot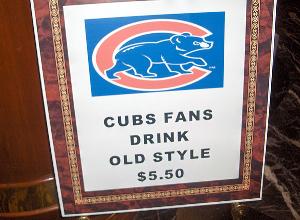 That photo is for my buddy DonS who I know would appreciate it.
All things considered, and considering the fact that the Cubs finished last in 2006 losing 96 games, the tempo at the convention was incredibly upbeat. I'm sure a lot had to do with the new turn the team is taking, spending money, acquiring a new manager.
I was impressed with the diversity of ages of the attendees of the convention. I expected to see a bunch of guys in the 20-50 year old range. Not true. I saw old people (really old people), young kids, middle-aged women, families, teenagers, pretty twenty-somethings, you name it.
One regret… I didn't meet Carrie Muskat, the beat reporter for the Cubs for mlb.com. I read her stuff a lot and I've always wanted to meet her. I dropped by the Cubs.com booth a couple times hoping to catch her. The man there told me she was in attendance and check back later. I chatted him up asking what she was like. He probably thought I was a stalker or something. So Carrie, if you're reading this, I'm sorry I missed you. Maybe next time.
Total autographs = 9 (Fergie, Madlock, Dascenzo, Lancaster, DeJesus, Jody D, Trout, Hebner, and Dernier)
Total caps bought= 3 (Peoria Chiefs, Iowa Cubs, and a Chicago Cubs cap worn by Gary Mathews Sr)
Total T-shirts bought= 3 (Wrigley Field shirt for my son, a pink (gah!) Cubs shirt for my daughter, and an "In Piniella We Trustiella" shirt from the Cubscast guys for myself)