Posted on
May 10th, 2007
by The Baseball Zealot
On Mother's Day, batters will be using the pink bats again to support research for breast cancer.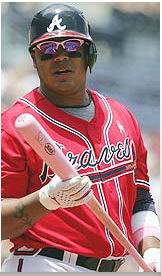 Last year, Andruw Jones not only did that but he embellished his image with harlequin shades.
Seriously, one player who will be looking at this from a personal perspective is Cubs outfielder Cliff Floyd. Last year, his sister, Shanta died of breast cancer at the very young age of 21. I can only imagine how important this will be to him.