Posted on
October 2nd, 2006
by The Baseball Zealot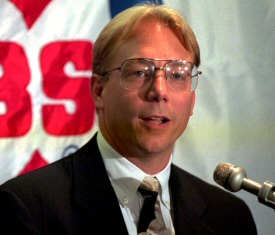 Andy McPhail stepped down as Cubs' president
On the heels of the somewhat unexpected news that Cubs' prez Andy McPhail has stepped down comes the more expected news (and perhaps news that most Cubs fans have been waiting for) that Dusty Baker will not be returning as manager next year.
First things first… I wasn't aware of any rumblings in the executive office and didn't see McPhail's resignation coming. John McDonough, Cubs' senior vice president of marketing and broadcasting will replace MmcPhail in an interim role.
The big question is how safe is Jim Hendry's job. It's my feeling that as interim prez, McDonough won't make too many hasty moves unless his position is solidified,
That said, McDonough had this to say:
"My goal is singular. The purpose of why I've been asked to do this job is for the Cubs to win the World Series — not win the Wild Card or win the division or win the pennant. It's time to win. It's time to win the World Series."
I'm a pretty cynical guy and I know he's supposed to say the right stuff but I have to say I'm glad he chose THESE words to say.
As for Baker, he officially didn't find out till today that he was out but on Sunday, he knew the writing was on the wall.
Fortunately, the Cubs gave him a win for a going away present. Some classless fans who love kicking a man when he's down, booed Dusty whenever he made a pitching change.
Others held signs that said "Keep Dusty". Ok, let's not get carried away here. Charity can go a little too far.
As for Baker?
"At this point, no," Baker said. "I am what I am, and I am who I am. My dad taught me a long time ago to speak with truth and honesty and be yourself with no regrets."