Posted on
December 17th, 2007
by The Baseball Zealot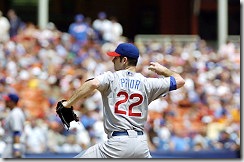 (Photo:Simmons/News)
While the Cubs may have given up on Mark Prior (not a difficult decision, but an "unfortunate" one, Hendry says) other teams might be willing to take the bait. As many as twelve teams have expressed some sort of interest in the oft-injured, once-phenom.
The Houston Astros have made an undisclosed offer. In addition, the Nationals, Cardinals, Padres and even the Yankees and Mets have shown interest.
I think this shows the state of good quality pitching in the majors. Prior isn't even throwing yet and probably won't be ready for prime time till May.