Posted on
October 14th, 2007
by The Baseball Zealot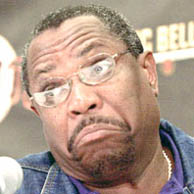 AP Photo
Don't this beat all? Dusty Baker was signed for three years by the Cincinnati Reds. To be their manager. Really.
I actually had high hopes when he came to the Cubs. To give credit where credit is due, we DID go to playoffs his first year with the Cubs (it's hard to forget that post season).
But the decline is easy to see. Under his leadership, the Cubs went from first, third, fourth, then last. THAT is not the direction I like to to go.
Baker is generally blamed for two things with the Cubs. Overusing his starting pitchers and over-reliance on veterans (to the detriment of younger players). That said, there have been studies that have possibly proven that his overuse of pitchers is a myth. Tell that to the fans and the media.
Baker is seen as a "player's manager". Perhaps to a fault.
Cubs fans are a picky bunch and personally I was one of the last to hitch a ride on the "Dump Baker" bandwagon. Facts are facts. Dusty has a winning record in the MLB (baaarely). He has three first place finishes and a NL championship.
Would I want want him back on the Cubs? Not on your life! It's a moot question, anyway. The fans and media wouldn't allow it.
I'd wish him well in Cincinnati but he's in our division. Just be gentle with the pitchers.
Interesting stat fact about Dusty: His winningest season as a manager (103 wins in 1993 with San Francisco) didn't even get him into the playoffs.