Posted on
October 18th, 2006
by The Baseball Zealot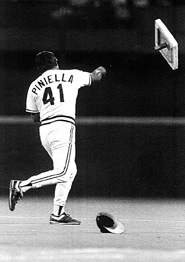 Will Lou bring his fiery style to the Northside?
"We're going to win. That's the end of the story."
Once again, they're saying the right things. But I like what they're choosing to say.
As a Cubs fan, I actually like the choice of Lou Piniella for manager of the team. From what I've noticed, Cubs fans seem to favor local favorite Joe Girardi while media pundits around the country seem to like the Piniella choice. A wide generalization, I know but I think it's true to a point.
A talking point that's making its way around the baseball media is "What conditions does Piniella place on his hiring?" I have already heard rumors of making offers for A-Rod. Piniella tactfully denied the rumor in his press conference.
Piniella has already hired back pitching coach Larry Rothschild. Piniella gave Rothschild his first coaching job back with the Reds in the early '90s.
Again, I think Pinella was the right choice. While Girardi would have been the sentimental choice, the Cubs need more than that. I think the Piniella choice shows that the Cubs are serious about winning some games especially if some moves are going to be made to support this choice.
Besides, anything to get Lou out of the broadcast booth, is a plus.