Posted on
April 14th, 2007
by Teddy Ballgame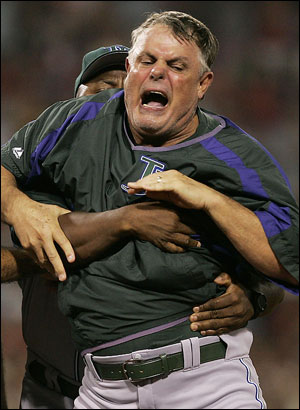 Lou Piniella
Just like the new groom after the honeymoon, Lou Piniella got an upclose look at his bride without her makeup. Yikes!!! "What did I get myself into?", thoughts had to be running through the head of the new Cubs manager. The Cubbies had a 5-0 lead over Cincinnati on Friday the 13th with their Ace Carlos Zambrano on the hill. Z was on a roll through 4 innings, he even knocked a homer to the delight of the Bleacher Bums. Then everything came crashing down in the 5th, Will Ohman even walked in the 5th & 6th runs of the frame, before being replaced by Michael Wuertz who K'd the side, Big Carlos didn't get anybody out in the fifth.
After the game Sweet Lou was asked by a reporter, "What went wrong?", to which Piniella lost it. It is part of the manager's job to meet the media after the game, if he wasn't prepared to do this part of his job, he should have stayed hidden in his office.
It's going to be a long three years!!!