Posted on
April 9th, 2007
by The Baseball Zealot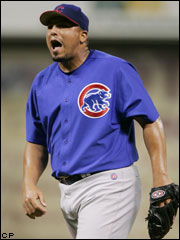 Somebody shut Carlos Zambrano up.
"I think it's a different ballclub," Zambrano said after Saturday's game. "I think Cincinnati has better hitters than Milwaukee. I'm not saying the Milwaukee Brewers are nothing, but the offense of the Cincinnati Reds is better and there's no room for mistakes.

"When you pitch against Cincinnati, they have Adam Dunn, Ken Griffey and all those guys, and when you make a mistake … you will pay for it," he said. "Sometimes you make a mistake here [against the Brewers] and sometimes they miss, and that's good."
Yah, well even it's true (and I'm not convinced it is), no point in giving them added incentive in winning the next time we face them.