Posted on
May 8th, 2007
by Teddy Ballgame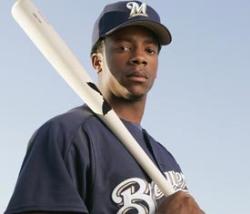 In 2005 he had 21 errors in 95 games and in 2006 he had 22 miscues in 92 games, but this year he has made only one error in 30 games. Last night I was watching the Brewers on TV, flipping back and forth between watching the Pistons humiliate my Bulls once again, and saw Rickie Weeks backhand a ball up the middle & fire a strike to first to get the out. Then I heard the announcers say, Rickie has really improved in the field, and only has one error on the year. I had to check it out and sure
enough, just one error. Then the announcers said something that would have been considered a joke not long ago, the DP combo of Hardy & Weeks reminded them of Trammell & Whitaker.
Is there hope for B.J. Upton? Finally the Devil Rays have found a place for Upton, secondbase. He's leading the league in batting .371 & strikeouts 37, that's never happened before. But my question is whether Upton can find the same magic fielding dust that Weeks found and sprinkle some on his glove. B.J. made 13 errors at thirdbase in 2005 in 50 games. Thus far Upton's committed nine errors in 27 games this year at secondbase.
No tags for this post.