Posted on
May 4th, 2008
by The Baseball Zealot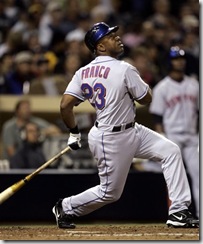 Julio Franco is finally retiring from baseball at the age of 49.
It's hard to believe that he started his pro career (in the Dominican Winter League) when I was a sophomore in high school.
He became the oldest man to hit a homerun when he did it off Randy Johnson one year ago today.
No tags for this post.