Posted on
July 22nd, 2008
by The Baseball Zealot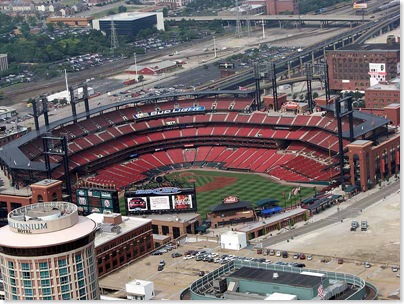 A shot of Busch Stadium taken from the Arch
It's been said before and I'm not going to deny it, St Louis is a baseball town.
I just spent two days there and though time prevented me from attending a ballgame, it's obvious that St Louisans take the sport seriously. Throughout town, I saw countless families who were ALL dressed in Cardinal red. Dad, Mom, kids, everyone.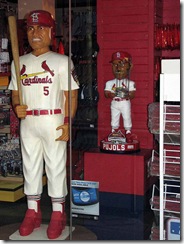 "Albert Pujols" and his mini-me
They always say they Chicago is lucky to have two major league ballclubs and I suppose that is true. The Sox and Cubs appeal to different audiences and draw well.
Coming from the Chicago market (I actually live three hours south), the concept of one city, one team is quite foreign. I have to admit it does sound quite appealing. Encountering a fellow baseball fan on the street, it must bring some solace and comaderie to know that chances are high that he's rooting for your team and that FIVE is his favorite number too.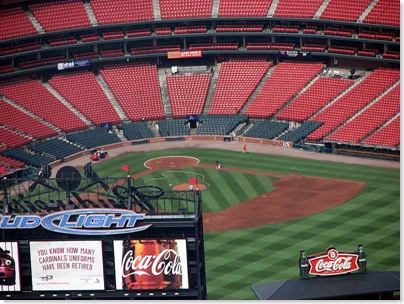 I zoomed in on the field. It looks like some of the ground crew were beginning to start work.