Posted on
August 22nd, 2006
by The Baseball Zealot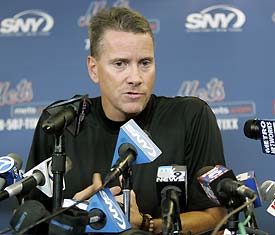 The news was good for Tom Glavine today.
What was thought to be a possible blood clot in his left shoulder turned out to be, after extensive testing, a less threatening buildup in an artery due to the long-term damage that can be created by pitching professionally for two decades.
He will be treated with medication instead of surgery.
Glavine is relieved, of course. A blood clot is serious business. Now he can continue pitching (after a short rest, he is tentatively scheduled to return September 1) and focus on the Mets pennant race and beyond. The potential loss of Glavine would have been a blow to the Mets' chances in the playoffs. Now that he's back, they have a greater chance especially considering Glavine's post-season experience.
Another consideration is Glavine's quest for 300 wins. He his 13 short right now. Though I'm sure it was furthest from his mind at the time, now that things are looking better, I would love to see him reach that milestone.
Glad to have you back, Tommy.
No tags for this post.