Posted on
November 6th, 2006
by The Baseball Zealot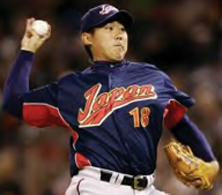 Much has been made about Daisuke Matsuzaka from Japan. I have at least taken the time to learn to pronounce his name so I can at least sound intelligent when talking about him.
The $30 million fee just to talk to Matsuzaka has appeared to be prohibitive enough to limit the teams serious about him to the big money teams. The Seattle Mariners have already put out a press release to the effect that they are dropping out of the bidding war.
It may more than money considerations that prompted Seattle's withdrawal. Matsuzaka (and his agent, Scott Boras) is reported to be discriminating about what teams he will consider playing for. Apparently, the Mariners is not on that list. Neither are the Dodgers.
A few things we know about Matsuzaka:
– Ironically, the most important thing about him is that he is an unknown. And MLB GMs shouldn't forget that. They play a different brand of baseball in Japan. The most important thing considering Matsuzaka is a pitcher, is that Japanese baseball uses a slightly smaller baseball. That of course, is only the start. Whether Matsuzaka's success will translate in the MLB is up in the air.
– Matsuzaka will no doubt have fan draw. There are many Asians and Asian-Americans watching the MLB and the owners know that. The marketing success of Ichiro, Hideki Matsui and other Asian baseball players has not gone unnoticed. Add to that the marketable sensation that a huge deal that will bring a new Japanese player to the majors and any success on the field will be frosting on the cake.
– At 17, he pitched a 17-inning complete game that required 250 pitches in a high school playoff game. And won. Later, he started the championship game and pitched a no-hitter.
From a baseball perspective, I'm not sure if Matsuzaka is really worth the green. I'm not so naive to think that it's all about the game, though. Time will tell which team will fork over the dough. Even more time will tell if it was worth it.
No tags for this post.