Posted on
October 31st, 2007
by Teddy Ballgame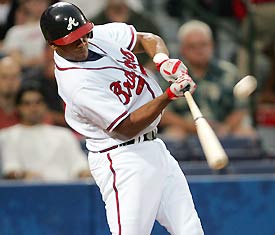 Edgar Renteria
Tigers acquire Edgar Renteria from Braves for two minor leaguers. I used to view deals like this much differently when I was young. I'm not going to say Detroit made a mistake in picking up the veteran shortstop who posted a .332 batting average at the age of 31 with Atlanta in 2007. Current Tiger SS Carlos Guillen will shift to firstbase in 2008, and a lot of baseballs would roll into the outfield through the vacated shortstop spot wasn't filled. But giving up OF Gorkys Hernandez and RHP Jair Jurrjens might've been a bit much.
Jair Jurrjens is a 21 year old righthander from Curacao who was 3-1 with the Tigers after going 7-5 with a 3.20 ERA in Triple-A. Venezuelan outfielder Gorkys Hernandez stole 54 bases in the minors last year, batting .293, and might make Braves fans forget Andruw Jones if he opts out of Atlanta. Meanwhile Yunel Escobar who batted .326 appears ready to takeover for Renteria for the Braves.
No tags for this post.