Posted on
April 16th, 2007
by Teddy Ballgame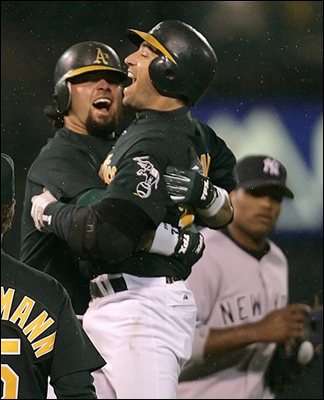 Marco Scutaro
Marco Scutaro 1 for 4, 1 HR, 3 RBIs, 1 run, 2 Ks, .095
I could only imagine the chanting of "MARCO" and the reply "SCUTARO" in Oakland after his game winning blast against the Yankees. I first heard to chant in Arizona this spring at an A's versus White Sox game. You've all heard it played by children, mostly in swimming pools, but with Marco Polo being the Marco of choice in that game.
This Marco's last name is Scutaro. He is a utility infielder out Venezuela who has gotten a lot of action lately subbing for the oft-injured Bobby Crosby at SS. On Sunday Scutaro was filling in at secondbase for Mark Ellis.
New York was leading 4-2, Mariano Rivera was brought on for the save, Todd Walker got a two out single, Jason Kendall walked, and Marco stepped to the plate as the potential winning run. Marco has never hit more than nine home runs in a season and was just one for twenty thus far in 2007. Scutaro's drive had the distance and struck the leftfield foul pole, for a game winning blast!
No tags for this post.