Posted on
April 19th, 2007
by Teddy Ballgame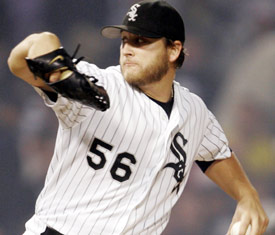 Mark Buehrle

Mark Buehrle, W (1-0), 9 IP, 0 H, 0 R, 0 ER, 1 BB, 8 SO, 2.08 ERA
As a White Sox fan and a HUGE Mark Buehrle fan, where was I??? I was at 40+ Sox games last year, including a series in Pittsburgh and a series at Kansas City. I've been a Sox fan since I was 12 years old back in 1968. In 2005 I was fortunate enough to go to Anaheim to see the Sox beat the Angels, winning the A.L. Penant. My favorite Sox hurler has always been Tommy John, being a lefthanded thrower myself, I've always had a soft spot for southpaws. The only player's White Sox tee shirt I own is Mark Buehrle.
My sister-in-law Lisa and friend Debbie were in town, they had tickets to see Oprah, so after they returned from downtown shopping, we all went to my FAVORITE restaurant, Rose Angelis. In retrospect I should have known something was up when NickyV called my cell as we pulled up to the restaurant, NickyV was at the game, but I was on the phone with my brother, and he didn't leave a message. After filling up on pasta, merlot, bread, and tiramisu, it was time to head home. When I came in the door, Mom asked, "Did you hear about the Sox game?" I said, "No. Don't tell me anything. I've got the game on Tivo". She said, "Everybody's been calling you". So I kinda knew something was up, but had no idea what it was.
I jumped into bed, flipped on the TV, and played the game back on semi-fast-forward, at least between pitches. It was only 1-0, on a Jim Thome solo blast, for a long time, nobody was really doing anything with the bat, but Mark Buehrle was really on his game. Buehrle almost allowed a homer to right, but Jermaine Dye caught the ball as his back was pressed against the wall. Then there was the great flat-footed throw by Juan Uribe to nip a guy at first. Mark walked Sammy Sosa, but then promptly picked him off, his 48th career pickoff. Dye sent a close line screaming meanie over the leftfield wall with the bases loaded after fouling off a ton of 3-2 pitches to give the Sox some breathing room and Thome hit another solo blast late in the contest.
The only time the no-hitter was in doubt was in the 3rd inning when Jerry Hairston, Jr. hit a hard hit grounder, Joe Crede dove to his right, landing on the base, he got up quickly & fired, just getting a head first sliding Hairston at 1st. Jerry argued he was safe, threw his helmut as he entered the dugout, and was tossed.
All of Buehrle's pitches were working all night long, from his cutter to his change, mixed in with a few curves. Mark challenged Texas' hitters from start to finish and his control was right there. Everybody was so happy for the popular lefty, who struggled last season. It was kinda funny cuz he mock pointed to the sky with a grin on his face after leaving the mound after retiring the Rangers on nine pitches in the first inning.
It was the first White Sox no-hitter since Wilson Alvarez tossed one against the Orioles in Baltimore in 1991. And it was the first no-hitter thrown in Chicago by a Sox hurler since Joel Horlen in 1967, one year before I became a Sox fan.
I was at the Cell the day before the no-hitter and will be there the day after, who knows what might happen. I might even see a no-hitter.