Posted on
April 22nd, 2007
by Teddy Ballgame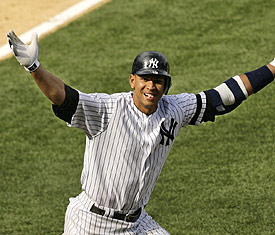 AROD
Alex Rodriguez 1 for 5, 1 HR, 3 RBIs, 1 run, 1 GAME OVER
In the top of the 9th there was a chopper to ARod that he had to wait on as a runner passed in front of him, by the time he got the ball & sidearmed it over to firstbase the runner beat it out, but because his throw was high, and this is NY, and this is ARod (not Derek Jeter), Rodriguez was credited with an error that put the Yanks down 6-2. Alex was 0-4 up to that point, with two strikeouts.
Then came the bottom of the 9th. Cleveland closer Joe Borowski retired the first two hitters before Josh Phelps cut it to 6-3 with a solo shot. Then Jorge Posada dribbled one up the middle, Johnny Damon walked, Derek Jeter delivered an RBI single, and Bobby Abreu followed suit. Which brought up Alex Rodriguez, Andy Pettitte had told Alex to be ready cuz he might get one more at bat. That premonition came to fruition as ARod stepped to the plate. And was he ever ready to crush the 1-0 offering high & deep over the centerfield fence for a walkoff home run! The fans went crazy! As did Rodriguez & his Yankee teammates! He knew it as soon as he connected, looking over to his dugout, and tossing his bat aside upon contact. He is the first hitter in AL history to reach the ten homer plateau in his first 14 games. After being interviewed on the field about his accomplishments, he tossed his batting gloves into the stands of screaming fans.
The next day at Fenway ARod hit two more home runs, but the bullpen couldn't hold it and the Yanks lost to the Bosox. So far though Rodriguez' home run totals for the year remind alot of folks of the Bambino's, he has more homers at this point than alot of TEAMS!
No tags for this post.