Posted on
April 22nd, 2006
by The Baseball Zealot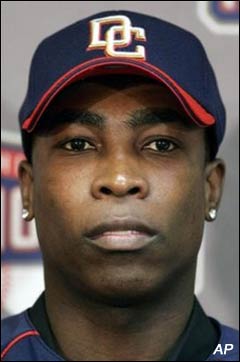 Alfonso Soriano, Washington Nationals
4 for 5, 3 HR, 3 runs, 5 rbis
Alfonso was patient today.  Well, in the sense he had to wait for a 2-hour rain delay.  Regardless, he had a career day.  This was the first time he's hit 3 homeruns in one game.  His last shot, a three-run dinger, broke a 3-all tie and broke it open for the Nats.
Honorable mention to Michael Young of Texas who was 5 for 5 with 5 rbis and 3 doubles.
Dishonorable mention goes to Jerome Williams (who continues show I was wrong when I said, "I think he's a good pickup for the Cubs" when we got him in the Hawkins deal).  Not only did he allow 7 runs in 1 1/3 innings, he walked the pitcher with the bases loaded.
No tags for this post.