Posted on
May 1st, 2006
by The Baseball Zealot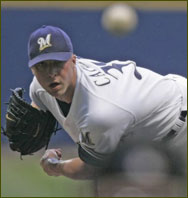 Chris Capuano, Milwaukee Brewers
9 IP, 5 H, 0 R, 0 ER, 0 BB, 6 K (Win)
It was Chris Capuano's first complete game of his career.  Pitching in cold, rainy, not-so-friendly confines of Wrigley Field, Cap seemed to do everything right.  Allowing only 5 hits, his control was on too, giving up zero walks. 
From the Green Bay Press-Gazette (who by the way, needs to re-think how they format their box scores):
"I was just hoping to make it through five with the big lead we had," he said. "I tried not to think about it too much, but I couldn't help it."
No tags for this post.