Posted on
April 6th, 2007
by The Baseball Zealot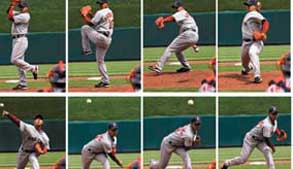 Daisuke Matsuzaka: 7 IP, 6 H, 1 R, 1 ER, 1 BB, 10 K (Win)
Much as it pains me to fulfill the hype, I have to give Matsuzaka credit for an well pitched debut. Behind his effort, Boston defeated KC 4-1. Will we see less media coverage of Dice-K now that he's made his first MLB start? Don't count on it.
Kudos to his opponent, Zack Greinke from KC. who pitched a fair game, too. He allowed two runs, one earned, in seven innings with seven strikeouts. He's had some media coverage as well for very different reasons. I'm pulling for Greinke (who happens to be the very first Baseball Zealot Linescore of the Day almost 2 years ago when he pitched six scoreless innings) to have a good season and despite the loss, this is a good start.
No tags for this post.