Posted on
May 2nd, 2006
by The Baseball Zealot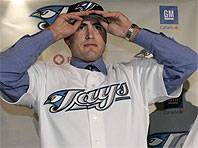 Troy Glaus, Toronto Blue Jays
4 for 5, 2 2B, 2 HR, 4 runs, 4 rbis, 0 LOB
Glaus was all fours yesterday with four hits, runs and rbis for the Jays.
That's his 9th double and 8th homer so he's settling in nicely with the Toronto crowd. With Rios (.365) and Wells (.390) hitting ahead of him in the lineup, he should have plenty of ribbie opportunities this season.
No tags for this post.