Posted on
May 18th, 2006
by Teddy Ballgame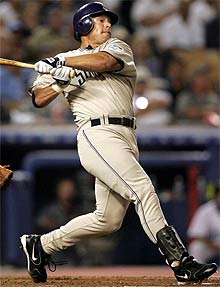 In a wild affair Brian Giles accounted for a touchdown all by himself as the Padres defeated the D'Backs 14-10. Maybe it was the decision by the Arizona manager to go for a field goal rather than a game tying TD that was the difference in the contest. SD jumped out to a 9-0 first inning lead before the Diamondbacks stepped to the plate, then scored another in the 2nd. The game got tantalizingly close when Arizona got within a run at 11-10 after an eight run sixth, but Giles put the game on ice with a three run 7th inning blast.
Brian Giles 4 for 6, 1 2B, 1 HR, 7 RBIs, 2 runs
No tags for this post.