Posted on
May 30th, 2006
by The Baseball Zealot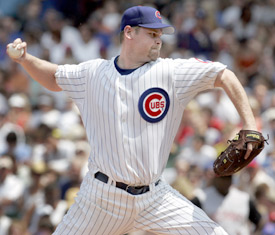 6 IP, 5 H, 2 R, 1 ER, 1 BB, 4 K (Win)
2 for 2, 2B, rbi
Wood's first win since July last year can only mean good things for the Cubs.  Things can't really get much worse anyway after this weekend's series with Atlanta.
Long term, I still think Wood belongs in the pen but that won't work until the Cubs have a solid staff. 
Followup:  Just after I was done with this post, I ran across Dusty Baker and Pitch Counts on The Hardball Times which claims that Dusty for the part, does not overuse his pitchers.  Cub fans will be skeptical, I'm sure.
Update:  Cubs up 4-1 in the fifth in tonight's game thanks in part to a 3-run double by Jacque Jones.  Nobody giving Jacque's mom any crap tonight.  He did make an error helping the Reds score their only run, though.