Posted on
June 22nd, 2006
by The Baseball Zealot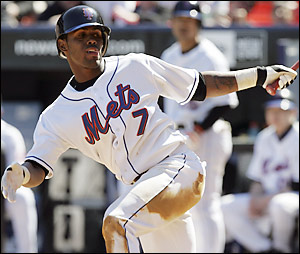 4 for 5, 2B, 3B, HR, 2 runs, rbi
Jose Reyes was good for the cycle on Wednesday against the Reds. It wasn't enough though as Billy Wagner gave way with 2 outs in the ninth to a Reds' rally. Two quick walks and two base hits was all the Reds needed to turn it into their favor.
I watched this game last night on MLB.TV. While we're on the topic of the Mets, I have to say they have to be one of the most exciting teams to watch in the NL. Traditionally, they have not been one of my favorite teams but lately, when I scroll through Mosaic deciding which game I should watch, my mouse will end up clicking on a Mets game because I know it will be a good game.
Last night was no exception.
I caught up with the action when the Mets were down by two. Before I knew it, the Mets had scored three capped by Jose Valentin's homerun (hit left-handed against a lefty, by the way. Something he should more often, in my opinion but that's fodder for another article). The Reds did come back to win but point is there seems to be excitement brewing with the Mets.
No tags for this post.