Posted on
July 14th, 2006
by The Baseball Zealot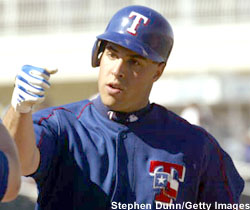 3 for 5, 3 HR, 3 runs, 7 rbis
Teixeira picked up where he left off at the end of the break and hit 3 homers with 7 rbis. He has 4 homers in his last two games.
Texas routed the Orioles 15-1. Teixeira had help from Mark Derosa who was 4 for 4 with 3 rbis and 3 runs.
Teixeira is an interesting case study. Last year, he had problems hitting righties. This year however, he is hitting them as well or better.

Or if you're the type that looks at glass as half-empty, maybe his production against lefties has just declined. No matter how look at it, he getting off to the right start in the second half.
No tags for this post.