Posted on
July 25th, 2006
by The Baseball Zealot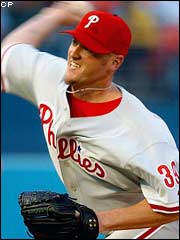 5.1 IP, 6 H, 7 R, 7 ER, 2 BB, 12 K (Loss)
Remember back in May? When after one start, everyone thought this Hamels kid was the next coming of Steve Carlton? Or at least Randy Lerch?
Well, fast forward to reality yesterday. After his loss to Atlanta when he gave up 7 runs, his ERA now stands at a hefty 5.98. Amazingly, he had twelve strikeouts in 5 1/3 innings.
Two lessons here: Strikeouts don't win ballgames and don't get too over excited about a rookie prospect after one good game.
No tags for this post.