Posted on
August 18th, 2007
by The Baseball Zealot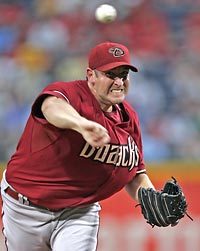 (AP Photo)
Brandon Webb: 9 IP, 2 H, 0 R, 0 ER, 1 BB, 6 K (Win)
Orel Hershiser's record of 59 consecutive scoreless innings in 1988 has been considered one of the more "unbreakable" records in baseball. At one point, ESPN's Page 2 column listed it among the records that "may never be beaten"
Should Orel be worried?
Granted after last night's complete game shutout of the Braves, Brandon Webb is only tied for 12th on the list (with Rube Foster) with 42. But consider this… he is only two complete game shutouts away from Hershiser's record.
Time will tell. Meanwhile, I'm impressed that Webbie is doing in style with a complete game shutouts and not 6 inning stints. His last 3 starts were complete games and the two before that he last seven. Any fantasy leaguers who own him must be quite pleased.
In a season where we have seen plenty of records and milestones broken, will we see one more?
No tags for this post.