Posted on
September 12th, 2006
by Teddy Ballgame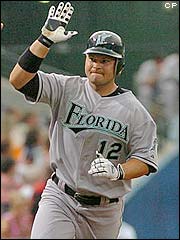 Cody Ross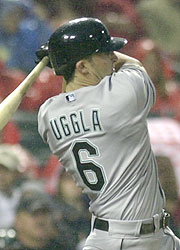 Dan Uggla
An unlikely pair of Fish get the nod for Linescores of the Day. Cody Ross hit three home runs, one was a 440 foot bomb! Ross is 5'9″, 205 pounds, was a 4th round draft choice of the Detroit Tigers in 1999, this is his third team of 2006, he wouldn't even be playing if "tout boy" Jeremy Hermida hadn't gotten hurt. And yet here he is bashing the NY Mets, helping the Marlins as they charge toward the Wild Card, the Marlins have the lowest salary (by far) in the bigs, but this hasn't stopped them from winning. Maybe this is why this team is winning, they are HUNGRY!
The other Fish is just as unlikely to be playing out of his mind as Ross, his name is – DAN UGGLA! Uggla is an 11th round draft choice selected by the Arizona Diamondbacks in 2001, he was hoping to find a spot on the Marlin Major League Roster as a utility infielder after being selected by Florida in the Rule 5 Draft, but he's found a job as the everyday secondbaseman on this overachieving ballclub. Dan made the All Star team, is batting .293, needs one run to reach the century mark, and has hit 24 home runs to tie the All Time Record for Home Runs by a Rookie Secondbaseman set by Joe Gordon in 1938.
These players, along with the rest of the Florida Marlins, are why I LOVE THE FISH!!!
Cody Ross 4 for 5, 3 HRs, 7 RBIs, 3 runs
Dan Uggla 5 for 5, 1 2B, 1 HR, 3 runs, 1 RBI
No tags for this post.