Posted on
April 3rd, 2007
by The Baseball Zealot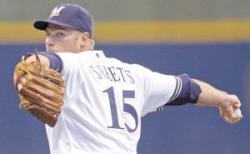 Milwaukee's Ben Sheets shuts down the Dodgers
Edgar Renteria: 2 for 5, 2 HR, 2 runs, 3 rbis
Renteria is making his early run for the Homerun crown as he helps Atlanta defeat the Phils 5-2. His power will most likely fade but who knows, we may be looking at a 15-20 homerun season from him.
Hanley Ramirez 4 for 6, 2 2B. 4 runs, 1 rbi, 2 SB
Jose who? Ramirez is a fantasy leaguer's dream with 4 hits, 4 runs and 2 stolen bases. He's out to dispel any sophomore jinx right out of the box.
Jose Contreras: 1 IP, 7 H, 8 runs, 7 ER, 1 BB, 1 K (Loss)
The Sox starter lasted only an inning and now has an ERA of 63.00. It will take a few starts to get that baby down again.
Adam Dunn: 2 for 4, 2 HR, 2 runs, 3 rbis
"One" Adam Dunn had Zambrano's number for opening day. Twice. Is he really a number 2 hitter?
and finally last but certainly not least…
Ben Sheets: 9 IP, 2 H, 1 R, 1 ER, 0 BB, 3 K
The cornerstone of Brewers rotation did what every Brewer fan hoped he would. His talent is certainly there as evidenced by what he did against LA. Staying healthy is the key. If he does, watch out!
No tags for this post.