Posted on
November 7th, 2007
by The Baseball Zealot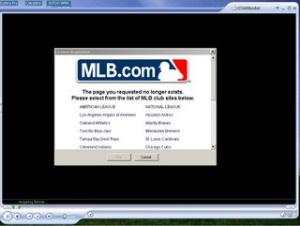 Allan Wood is a Red Sox fan and author of The Joy of Sox, a Red Sox blog. During the 2004 season, he purchased $280 worth of Red Sox game videos from MLB.com. Now, those videos are unable to play because MLB.com has gone on to a new deployment system. Wood blogged about it this morning and he's pretty unhappy for a Red Sox fan.
The problem?? Digital Rights Management or DRM.
What is Digital Rights Management? Sam Costello has a reasonably neutral definition for such a divisive issue.
Those media outlets who use DRM claim that DRM is necessary to preserve the copyright or digital rights to the intellectual property. However, I think it's more than that. The frustrating thing about DRM is that it keeps ALL the control to the owners of the media and in situations like these when it may become obsolete, the customer has no recourse.
The frustrating thing for Allan Wood?? They are now selling the exact same games that he purchased 3 years ago (yes, the ones that won't play) all over again.
Wood has talked to MLB and I have to say I'm surprised that they have been so responsive (bordering on rude). I've dealt with MLB.com's media support once or twice on the phone and been ok.
I don't know if Wood's situation is isolated. Knowing how DRM works, I doubt it and Wood is one of few who is speaking up about it.
Also check out Ars Technica's piece about Wood's issue with MLB.
No tags for this post.