Posted on
June 2nd, 2006
by The Baseball Zealot
Turns out the programmers at MLB Advanced Media have a sense of humor.  Who knew?
The new Mosaic interface for MLB.TV which is brand new (came out May 23), has a BOSS button.  This is presumably to be used when your supervisor or nosy co-workers come by your desk to look over your shoulder while you are following your favorite team.  What happens when you click the BOSS button? This pops up: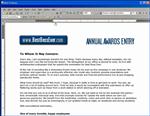 click to enlarge
Laying it on pretty thick, eh?  Still pretty funny.
While I'm on the topic, the new Mosaic interface for MLB.TV is very nice.  It is the newest feature available for anyone who is signed up for MLB.TV.  It has a few nice features that the web version didn't. 

The obvious is being able to view all baseball games on mini-screens and choosing which game you want to hear.  Actually, there are three "panels" since they can't fit all the games on one page but you get the idea. 
Watching the game in full video is better too.  They include a full boxscore to the right which is a definite plus.  A ticker at the bottom gives highlights of what is happening in other games and allows the viewer to click on the text to watch the game.  A coming feature is a "Player Tracker" which will allow the viewer to follow their favorite players.  Presumably, it will notify you when your player is up to bat. 
Caveats:
Blackouts:  This is spelled out when you sign up for MLB-TV but it's worth mentioning.  Blackout restrictions.  For example, if you live in Chicago(or even in the downstate area), don't expect to be able watch the Cubs or Sox (unless they're Red).  Occasionally, I've been able to somehow get lucky (last night, I could watch both the Sox and the Cubs… shhhh).  But certainly, don't count on it.
Mosaic is still officially in beta mode so it still may be buggy.  That said, I haven't found any major issues in terms of the program engine.  There are a few things that need work.  The ticker needs work.  I've seen "Pitcher X is pitching for Team Y"  when I know for a fact that the game was over 20 minutes ago.  Not a big deal and I'm sure it will be fixed eventually. 
Another issue I've found is concurrent login errors.  If I log in to the web interface, log out then  try to log into Mosaic (even 10 minutes later), it won't let me in saying that I'm trying to log in too many times. 
Caveats aside, I'm really enjoying MLB.TV and now with the new Mosaic interface, enjoying even more.  With the amount of time I spend on the computer, I find this is how I like to watch a ballgame.
Update: The Mosaic interface is for Windows only at this point. According to MLB, Mac version is "coming soon".
No tags for this post.