Posted on
April 7th, 2007
by The Baseball Zealot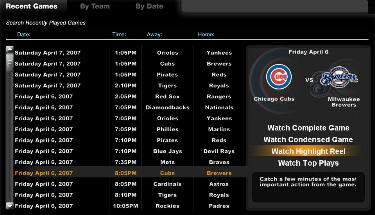 While I wait till 7pm so I can watch some live baseball on MLB.TV (dang Fox network), I thought I'd write a bit how I use the archived games feature of MLB.TV in case that helps anyone else.
But before I go into anything else, I want to point those of you who are interested in MLB.TV's Premium package to MLB.com's Bandwidth Detection page. It is an easy way to determine your bandwidth and will possibly help you decide what package you might get.
I don't know how accurate it is but and in addition, I'm sure your bandwidth varies. Also in my case, my bandwidth was shown to be way below the limit and still runs Mosaic fine. Still, the utility is there so it can't hurt to use it. I just wouldn't bet your life on it.
So what about archived games? As a baseball blogger, this is something I use a whole lot. First and foremost, let me say that all games are available regardless of whether you are in that team's market or not. No blackout restrictions apply!
Assuming you have the premium package, there are four ways you can watch archived games, once they are over (it does take some time for the MLB.TV folks to process the video but not too long):
Watch Complete Game: Pretty much like it says. The advantage of this one is that it is usually available a few minutes after the show.
Watch Condensed Game: As Mosaic says: "Condensed Games feature third strikes, fourth balls, run-scoring plays, and other events from the game.", but in reality it seems a little more than that. Nice plays in the field, rally-starters, and the like. To give you an idea, the Condensed Game video for Rich Hill's win for the Cubs took about 9 minutes.
Watch Highlight Reel: Aptly named. Someting you would see on the highlight reel on the sports news. Just a couple minutes long.
Watch Top Plays: They just show the best plays of the game whether it be fielding, pitching (strikeouts), or batting. These are not necessarily shown in the context of who won the game. Again, very short… just a minute or two.
All of these modes come with a complete box score to the right. It doesn't fit on the screen but you can click through it just fine. One feature I wish it had was hyperlinks on all the player names that led to MLB's player page (similar to MLB's box scores).
That said, I have to say I use the archived games a lot. I personally like the Highlight Reel and usually watch every MLB game in that fashion in addition to whatever games I catch live.
No tags for this post.