Posted on
April 3rd, 2008
by The Baseball Zealot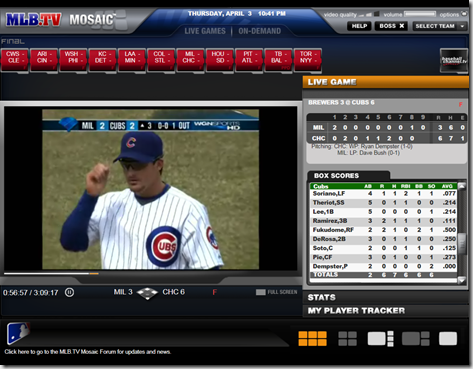 I've finally got MLB.TV Mosaic going and for the most part, I'm pleased. The above shot is of an archived Cubs game against the Brewers from April 3.
MLB.com said over and over in their promo material that the new Mosaic would provide improved graphics for your viewing pleasure. Call it hype but at least for me, it's true. I don't know if you can tell from the above image, but the graphics ARE better.
A couple things: If you were running Mosaic from last year, I would recommend uninstalling it and installing the new version from MLB.com. I don't think it will automatically update. At least mine didn't.
Also, according to a first-tier support person at MLB.com, Silverlight is NOT necessary if you have installed MLB's new NexDef enhancer. I dutifully uninstalled Silverlight while I was on the phone with this support person and it worked fine. On the the other hand, it works fine on the different computer with it installed. So your mileage may vary.
Another image showing the improved graphics: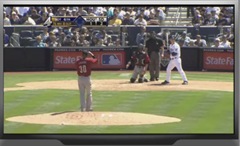 Archived games don't seem to have video seek yet if you want to immediately go to a certain inning. You can use the slider bar to fast forward (or reverse). And look, it saves your players from Player Tracker from last year: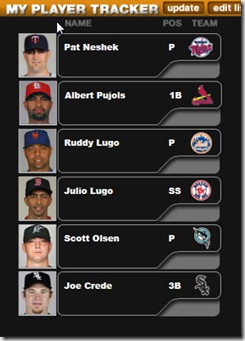 Time to update it.
that's all for now. I'll be playing with Mosaic more and I'm sure you'll hear about it.
No tags for this post.