Posted on
September 9th, 2008
by The Baseball Zealot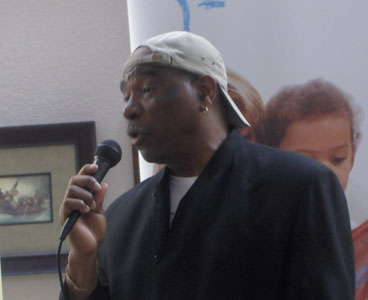 Westfield at a poetry reading during "Read Across America" in 2006.
For those in the C-U area this weekend, take the opportunity to see former Negro League pitcher Ernie Westfield speak at the Champaign Public Library this Sunday.  He will talk from 2:00-2:45pm.
"Tennessee Ernie" Westfield played for six years for the Birmingham Black Barons and had the honor of being the starting pitcher for the East Team in the last Negro League All-Star game in 1960. 
He is also a pretty good poet, too.
You can find details (and a map) of the event on Sunday at CPL's website.