Posted on
March 21st, 2008
by The Baseball Zealot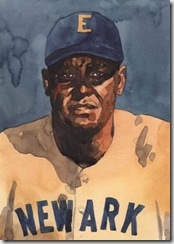 ArtInsights has an interview with artist Mark Chiarello who is featuring his watercolor exhibit entitled "Heroes of the Negro Leagues" on March 29 at the ArtInsights Gallery in Reston, Virginia.
The watercolors were originally packaged as a set of trading cards in 1990 and are now featured in the exhibit as well as appearing in a hard cover book with the same name.
Put me in the "I don't know art but I know what I like" category. And I do like these. Read ArtInsight's interview with Chiarello and look at his online gallery. If you're so moved, you can buy the book.
(hat tip: Boing Boing)