Posted on
October 3rd, 2006
by The Baseball Zealot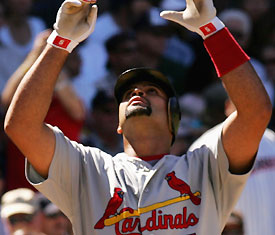 2 for 4, HR, 2 rbis
San Diego Padres meet Albert Pujols.
Prince Albert continues his torrid pace into the post-season. His two-run homer broke a two-all tie. Cardinals win. Simple as that.
To say that the Cardinals needed to win this game is an understatement. After their losing ways toward the end of the season, I'll bet it felt good to have this under their belt. Having Carpenter going for them in Game 1 is a blessing. He allowed only one run in six and a third.
From here out, it may get a little sticky. The rest of the Cards' staff will not be a sure thing and they can't expect Pujols to do it all in every game.
The teams get a day off and continue on Thursday.