Posted on
October 18th, 2006
by The Baseball Zealot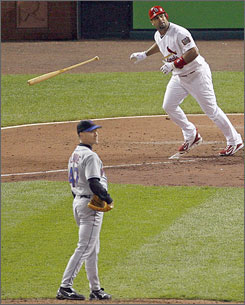 Funny, when Albert Pujols has better luck against Tom Glavine, his words are more glowing.
"We beat their best guy, and he was tough," Pujols said. "He got me the last time, but I got a perfect pitch and drove it. We made adjustments. We were more patient out there. I'm seeing the ball well, swinging the bat well.

"With a guy like Tom Glavine, you hopefully can wait for a mistake."
Kinda like congratulating your opponent on a game well-played… when you're the victor.
Regardless, Albert's homer should quiet the media who think he's lost his touch because he hadn't had a hit in what, 2 or 3 games.
Now they focus on total downfall of Tom Glavine and how he totally fell apart in Game 5. Note the sarcasm.
No tags for this post.