Posted on
December 7th, 2006
by Teddy Ballgame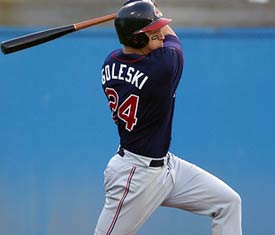 Ryan Goleski
The Tampa Bay Devil Rays selected the 6'3″ 225 pound outfielder from the Cleveland Indians. The former Eastern Michigan standout was then swapped to the Oakland A's. The Moneyballing A's GM Billy Beane got into the action, just about where he started out, born in Orlando, FL, not far from Disneyworld & Mickey's House (as my niece & nephew call it). It doesn't appear as though Oakland will re-sign outfielder Jay Payton, so Ryan figures to see plenty of action. The righthanded hitting Goleski belted 27 homers and drove in 106 runs split over Advanced A & Double A ball.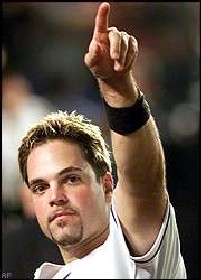 Mike Piazza
In other news out of the Bay, Mike Piazza was signed to replace DH Frank Thomas. This will be the first time Piazza has played with an American League club. Mike has always been behind the plate, but this year he'll be trying the DH role for the first time. It should be alot easier on Piazza physically, than the demanding task of catching, but there is the mental aspect of being a successful DH. It will be especially challenging for Piazza because as a catcher he was so involved in the action. Besides all that 2000 was the last time Mike put up any numbers similar to what the Big Hurt put up for the A's last season.
No tags for this post.