Posted on
February 27th, 2008
by Teddy Ballgame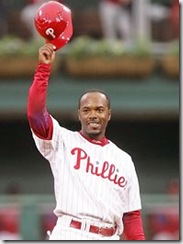 Even though there's still snow on the ground throughout much of the USA, Spring officially sprung into action for me watching MVP JRoll & his Phillies take on the Cincinnati Reds in Clearwater, FL today. Although it was only 53 degrees, with wind screaming across the field from left to right, it was time to play some baseball. I grabbed a Yuengling, some cheese pizza, and settled into my primo seats behind home plate. But then the 30 MPH wind reminded me it wasn't quite spring yet. So I gave up my seats and moved by the thirdbase line. There was enough shelter there to be able to enjoy the National Pastime.
I'm always amazed when I see little Jimmy Rollins playing shortstop, somehow my brain can't quite grasp the reality that he is the 2007 NL MVP. I can still remember when I first saw Rollins a few years back when the players were working out, before the games began, I was behind the chainlink fence by home plate, and Jimmy was standing next to me, almost eye-to-eye. I stand at 5'2″ and the Phils "short"-stop is listed at 5'8″. It seems like almost yesterday when Tony Gwynn was brought in to get Rollins to shorten his stroke, and take advantage of his speed. Now he is MVP, hitting 30 home runs, Little Big Man, indeed.
Back to the day, Jamie Moyer toed the rubber for Philadelphia, and made leadoff man Ryan Freel look sick swinging at a slow breaking ball for strike three. Then Moyer showed it was no fluke, as he got Ryan in his 2nd AB with the exact same Uncle Charlie. The first hit by the Reds belonged to super-hype prospect rightfielder Jay Bruce. It was impressive to see the big lefthanded hitter go the other way against Jamie with a duck snort single to left.
Ryan Howard fought the wind and the wind won. Still Howard pulled up at second with a two base hit, he hit the ball on the screws. Pedro Feliz looked really good manning the hot corner for the Phils. It's gotta be nice for this kid coming over from SF to Philadelphia, and a contender. Greg Dobbs mashed a threw run bomb off some meat nameless lefty to put the game on ice for the home team. It was good to see Chris Coste flash some digits, certainly no quitter there, long time minor leaguer, playing in the show.
Dallas Green was sitting ten rows behind home, watching the action. He is very personable, it's amazing to see the interaction between the fans and the big guy. Green chatted with fans and signed a few autographs.