Posted on
March 3rd, 2007
by Teddy Ballgame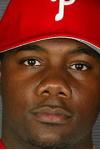 Day two in the Sunshine State saw me in at Brighthouse
Field where the Philadelphia Phillies opened their
61st consecutive years of Spring Training in
Clearwater, FL. 61 consecutive years is the 2nd most
for any MLB team at a town for spring training, can
you name the longest?
The Cleveland Indians were the visitors and even
brought fewer big leaguers than Boston brought to
Dunedin the day before. Jason Michaels, Casey Blake,
& Andy Marte were the only major leaguers to make the
trip.
A ball was fouled straight back, bounced off the back
wall behind the plate, rolled to a halt a few feet
from me, and the guy I was talking with picked up the
souvineer. A better souvineer was launched in the
opposite direction as Ryan Howard CONNECTED bombing
one 460 feet over the centerfield scoreboard. This
kid is gonna be good, MVP, and just signed for
$900,000. I think the Phillies should have signed him
for more money, not because they had to, but because
it is the right thing to do.
NickyV and I saw him on a baseball roadtrip a couple
of years back. Howard ripped a double in Cincinnati
and NickyV exclaimed, "WHO IS THAT!" NickyV was smart
enough to grab him for his APBA team the State Street
Sluggers, coincidence – the Sluggers made their 1st
playoff appearance in ten years after drafting Ryan.
I saw Ryan Howard on HBO's Real Sports. Turns out
Howard's mother controls his money and gives him an
allowance. Gumbel commented, "Howard is the only MVP
to get an allowance from his mother". Howard's mother
gives him a hard time when he goes over his minutes on
his cellphone.
All you Fantasy Leaguers out there, listen up, Shane
Victorino is going to have a breakout year, possibly
.330 with doubles & steals, batting between Rollins &
Utley, with Howard driving them in. Shane is a
HUSTLER, always giving 110%, he was halfway to 2nd,
before retreating and settling for a single, he's fun
to watch!